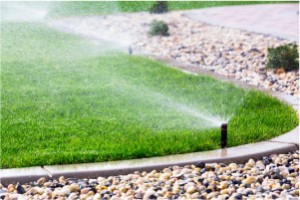 Have you ever wondered why the grass always appears to be greener in your neighbor's lawn no matter what you do?
If you've ever envied your neighbors' beautiful green lawns and gardens and wondered how they maintained that lush, green grass and shrubs, most likely the answer can be found in an in-ground sprinkler/Irrigation system.
Belmont Irrigation can design the perfect sprinkler system for your particular lawn and landscaping needs. A system designed and installed by us is an actual energy and water saver and will provide the irrigation needed to maintain lush, green lawns and healthy shrubs all year long.
Whether your plans call for a small residential system, or a larger commercial system, Belmont Irrigation can install it.
We feature only name-brand systems and can custom design an automatic or manual system for you. Our complete services include upgrades, expert repair and improvement as well as monthly maintenance.
We have over 35 years of experience in the trade, working in the great Boston area. Call us today for a free estimate on a new installation.